Once again our fourth and fifth grade students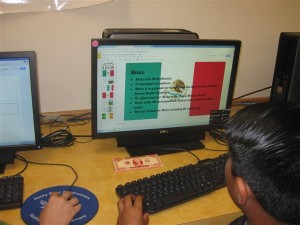 take on leadership roles and go out into younger student's classrooms with their laptops and presentations to demonstrate their learning.   During global studies students learned about different countries around the world by watching movies called Countries around the World, using Culture Grams and Britannica to research and digital books to learn more.  They then spent several weeks creating a Google Slideshow in Google Classroom about what they have learned.  They were able to add pictures and transitions to enhance their presentation, some groups learned about Tour Builder with google maps and will use this.
Some of the Countries studied were China, Japan, India (Asia), Peru and Brazil (SA),  Mexico (NA), Ireland, Italy, Greece, United Kingdom (Europe), Australia (Australia), Russia (Asia/Europe), South Africa and Kenya (Africa).   Students in each class had 5 or 6 countries to compare.
Third graders have also been working on a unit about Water around the World in ELA.  They will teach others about the importance of having water that is clean and accessible for everyone.
A few students created projects using their home language and then sharing it with younger students that spoke the same language.   Smiles could be seen around the classroom as they listened to a student presenting in their home language.
This is some of the things we learned…..
Japan- Shoes are not worn in homes.   They can rent a pet for an hour or day because they have small homes.  They are known to be very healthy people living a long time.
China- produces 2/3's of the world's toys.   They buy fresh meat and vegetables each morning.
India- Teachers are always called "Sir" or "Madam".    The make a lot of movies.
Peru- They have two of the deepest canyons in the world even deeper than the Grand Canyon.  They are the birthplace of the potato and have lots of different kinds.
Brazil- Summer Olympics will be there in August and it will be winter time for them.  Brazil is known for the Amazon Rain Forest.
Mexico- They have the largest population of Spanish speaking people in the world. Many rural (countryside) families don't have running water in their homes.
Ireland- They have no snakes.  They often learn to play an instrument as music is important in their country.
United Kingdom- Made of of Ireland, Wales, Scotland and England.  Their largest mammal is a red deer.  They had the first and largest subway system in the world called The Tube.
Greece- Earthquakes are common.  They grow lots of olives.
Italy- Is known for its fashion industry.  It has lots of good Italian foods like spaghetti and lasagna and pizza.
Australia-   Australia is a country and a continent and has many unique animals like the kangaroo and koala.  Australia has the "Outback" and Sydney Opera House.
Russia- Russia is located in Europe and Asia.  They had the Berlin Wall to separate the two countries but it was torn down.
South Africa- South Africa is on the tip of Africa.  They have lions, elephants, zebras, impalas, leopards, penguins, seals, and giraffes.  The great white Shark is found off the coast.   The world's first successful heart transplant was there.
Kenya—Rhinos and elephants were hunted for their ivory tusks so they have made it illegal to hunt them.  The equator runs across Kenya.  It is known for its grasslands or savannas and the animals found there.
Water is important and many people do not have clean water.  It has to be carried a long way because there are no wells.  Everyone does not have access to clean healthy water.