As we begin our project to teach students in Ireland and Around the World about places to visit in North Carolina we look out our windows this week you'd see  lots of rain. So if you came now to visit you'd need a rain coat or umbrella and some rain boots. It's probably like we think you are most of the time.  We have read that you get lots of rain.   We didn't have rain on Saturday but it's poured heavy rain much of today.   They are calling for some severe storms possible with tornado watches for late this afternoon and tonight.  Flooding is forecast in some low lying areas.   The temperature is 70 F or 21 C.  It's warm so bring shorts and t-shirt along with the rain gear, hiking shoes, and jeans and sweatshirt for layering.    Tomorrow a cold front will arrive in the area.
The trees have gotten their new spring leaves and the grass is growing for the spring mowing season.   Azalea bushes are blooming now in whites, pinks, red, and purples.  There is a lot of pollen in the air and on everything.  If you have allergies bring tissue and allergy medicines.  We'll travel there by car which will take between 1 1/2 and 2 hours.  If we are on a field trip we will go by a school bus and it may take longer.
Our first stop on our agenda…..
Have you ever wondered about minerals and gems?  

Where do you find them?

 What kinds are there?  

Do you like nature and wildlife?

 Then you'll like our first stop!
Credits:  Hiddenite Gem Mine – Emerald Hollow Mine, North Carolina
Emerald Hollow Mine   located  in the foothills of the Brushy Mountains is in a small town of Hiddenite, North Carolina.  It's a unique and interesting geological location on the North American continent.  Emerald Hollow Mine is known as "The Gem Capital of the World," and provides educational fun experience for everyone.  You can spend a day in the foothills digging, sluicing or creeking " for gems.  They offer Earth Science and Field Trip programs to tour groups and teams.  There are more than 63 different types of naturally occurring gems and minerals.  Many are rare including emerald, aquamarine, sapphire, garnet, topaz, amethyst, rutile, tourmaline along with more abundant ones of the world like class smoky and clear quartz crystals.  It's the only place on earth where you can find the rare gemstone "Hiddenite".
Hours 8:30 am to sunset (ranging from 5:00 p.m. in mid-winter to 7:00 p.m. in mid summer).
Open every day except for Thanksgiving (Nov – fourth Thursday), Christmas Eve and Christmas Day.
You can bring your RV and park it nearby with complete hookups.  There are motels/bed and breakfast in nearby cities of Statesville, Hickory and Taylorsville.  You can bring a picnic lunch or stop in one of the nearby cities for a meal.
Staff will answer questions, offer instructions and help identify gems/minerals you find.
There is also a complete lapidary shop (where they turn your finds into jewelry and beautiful cut stones).
Other things to do-  DO NOT PICK THE WILD FLOWERS.
Breathtaking scenic views
Abundant wildlife
Walks/hiking and nature at it's best.
Year round- Children's activities
Free parking
Gift/retail shop
Picnic area
Rental equipment
Guided tours
Rustic mining town atmosphere
Splashing in the cool stream during the hot summer
Picture of sluicing from—   http://www.bestsmalltownamerica.com/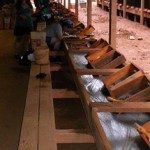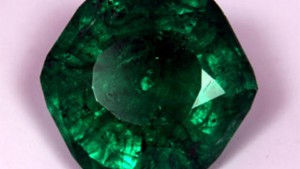 Largest Emerald Found  (CBS news)
Sluicing, Creeking, and Digging
Sluicing Permit- $5.00- most popular and easiest.   Have a seat on covered sluiceway and wash buckets of ore to find gemstones.  Additional buckets range from $5.00 to $1000.00.  Variety of buckets to choose from such as the  "Super Bucket-  5 gallon enriched bucket for $15.00
Creeking- Sluicing/Creeking Permit)- $10.00  Cutting through the rich ridges of the mine there are sparkling clean, clear , mountain waters called creeks.
Digging:  Combination Permit- $20.00.   Digging is hard work but motherlode finds are made chasing veins.
Creek Screen and Hand Shovel- $2.00 more with a  $5.00 deposit for set $3.00 refunded upon return of tools.
Digging Tools- $5.00 set- $10.00 deposit- $5.00 refunded upon return of tools.
Check out their official website here for more details.