Hello world,
We are busy learning about schools around the world and would like to learn more about your school to compare.
Please leave us a brief description of your school, the school day and where you are located.
We have about 820 students in pre-kindergarten through fifth grade.  We have 17 pre-kindergartens that are four year olds.  We have about 150 kindergartens.  There are 8 classrooms of kindergarten children.  We have six and seven of other grades.  When you are in first grade you might be six then turn seven.  We have about 40 classroom teachers.  We have a PE teacher, music, art, global studies/technology and media teacher for specials.
Our school Rocky River is 7 years old.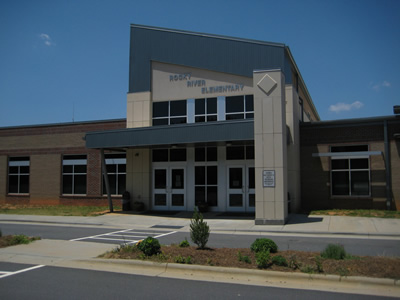 It's very bright and shaped like a capital E.  We have bright blue, bright green and orange hallways.

We have 3 playgrounds.

We are located in Monroe, North Carolina in Union County.
We got our first postcard this week through the post card project.  It came from the Shetland Islands.  We were very excited to compare their playground to our playground.  It came from Burravoe Primary School.  Do you know where we  found the Shetland Islands?   We looked them up on google earth today.  Can you find them?
Some of us bring lunch from home and some buy and eat lunch from our cafeteria.

We have math, literacy (reading, writing, word study) and science or social studies daily.   We have recess (outside time for 30 minutes) and lunch.  We go to specials for 40 minutes each day.

Some of us come to school by car and many by big yellow buses.  No one walks to school.

Monroe is a small town outside Charlotte, NC which is about 30 minutes away.  There are about 27,000 people we found out.    It has farms, the city streets and buildings and several other nearby small towns.  There are about 30 elementary schools in Union County.  We might see horses, cattle, sheep, goats, chickens on our way to school.   We see neighborhoods with many houses.  We see houses by themselves.
Visit the website for Monroe to learn more about where we are.